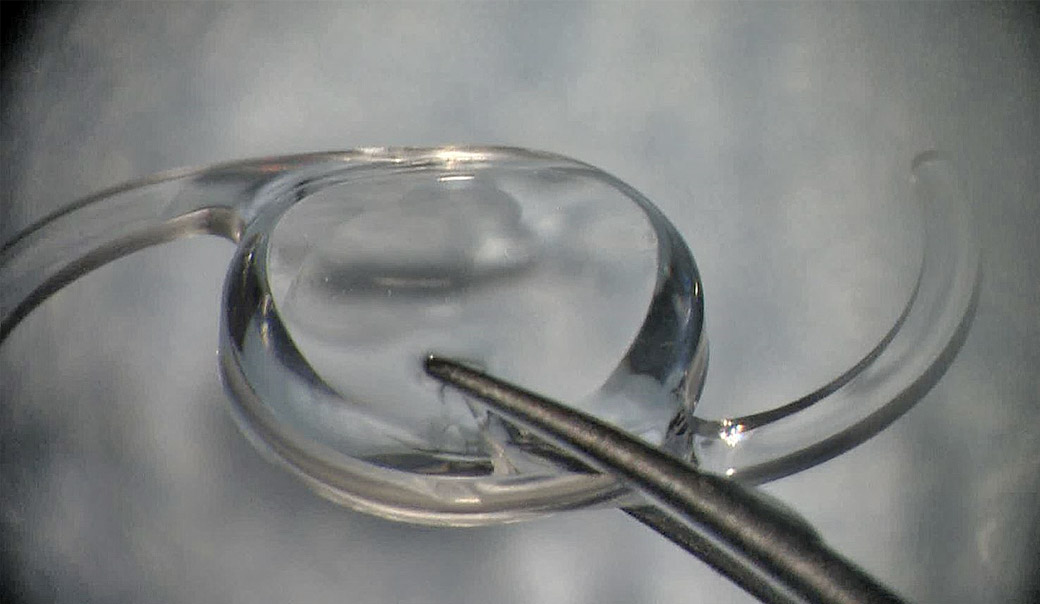 The toric lens with 40.0 D cylinder
HumanOptics offers an exceptionally large dioptric range of toric lenses and enables patients with extreme visual defects to significantly improve their quality of life.

In close cooperation with PD Dr. Vossmerbäumer (University Eye Clinic Mainz), a cylinder correction of 40.0 D was achieved in a severely visually impaired patient by implanting an individually fabricated IOL.
The correction of such extreme astigmatism presents both the manufacturer and the surgeons with special challenges.
The special optic design of this extraordinary IOL requires the highest precision in biometry, IOL calculation and in all of the production steps, right up to its final production. Due to state-of-the-art high-precision technology and years of experience in production of special implants, HumanOptics is able to meet these high requirements to a considerable degree.
Implantation of the personalized IOL differs greatly from that of a standard operation and therefore requires an extraordinarily experienced surgeon. Treatment with the custom manufactured TORICA-aA represents a considerable improvement of the sensory abilities and a significant improvement in quality of life for the patient, who had previously lived with a severe visual impairment.
The TORICA-aA und TORICA-aAY premium toric IOLs are available in the XL delivery range:
SPHERE -20.0 to 40.0 D
CYLINDER 1.0 to 20.0 D
The TORICA-aA/-aAY achieves maximum imaging quality due to its toric, meridional aspheric anterior surface. Both meridians are aberration-free, in contrast to the usual correction of essential advantage over the usual correction to the mean asphericity. The excellent rotational stability of TORICA® has been clinically proven over a period of 1.5 years.
https://www.humanoptics.com/wp-content/uploads/2018/02/news-torica-40-dpt-zylinder-weltrekord-torische-iol-extrem-wert-vossmerbaeumer-mainz-humanoptics.jpg
604
1040
human
https://www.humanoptics.com/wp-content/uploads/2018/01/logo.png
human
2018-02-01 10:47:59
2019-05-24 11:41:08
The toric lens with 40.0 D cylinder